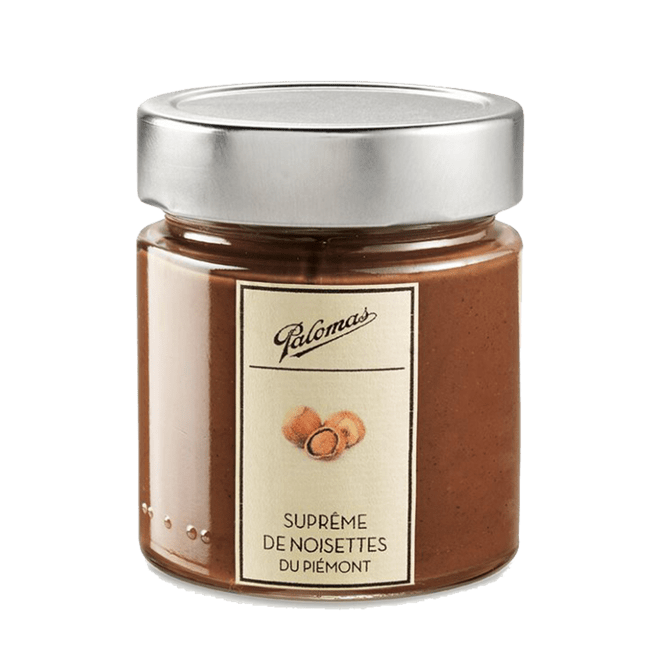 Jam Cream of Piedmont Hazelnut sp
Chocolatey Piedmont Hazelnut Spread
Three fine ingredients - simplicity is the ultimate sophistication.
Our Piedmont hazelnut spread will delight young and old alike with its tender chocolate taste and its composition which is the ultimate in simplicity. Three ingredients are all we need to make our spread: Piedmont hazelnuts, full-roasted by us, sugar and cacao paste - that's it! As the saying goes, the simple things in life are the best.
Made in France
12.30 €
240g jar
Delivery estimate: on or before Friday 6 October with Express France.
This Product is shipped directly from our Boutique in Lyon, France. Packaging will protect from shocks and heat.
Ingredients
four weeks at temperatures below 20°C.Piedmont hazelnuts, sugar, pure cacao paste. Hazelnuts, possible presence of nuts, milk and flour.
65x82x65mm - 250g - 49.20 €/kg - Reference: P-00622 - For Products with several flavors, the Chocolate Maker may exceptionnally replace one flavor by another according to production and/or seasonal constraints. Non-contractual photo. Serving suggestion.
Learn More
Discover more about Maison Palomas
Keep in Touch
Receive our Newsletter & be the first to get word of our new Chocolates and of our news.