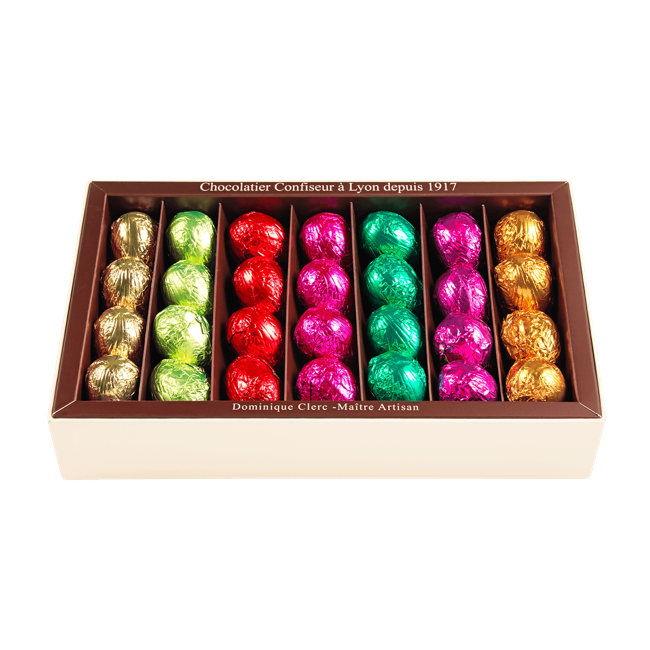 Assortment of Easter Eggs
Assorted folded eggs made by our care
Discover our eggs topped with smooth or crispy pralines, marzipan or ganache to brighten up your Easter celebrations. Each color contains a different creation: Pink: Milk chocolate almond praliné from Provence, Red: Dark chocolate hazelnut praliné from Piedmont, Blue: Dark chocolate crispy praliné, Violet: Milk chocolate crispy praliné, Copper: frothy caramel ganache in dark chocolate, Green: frothy vanilla ganache in milk chocolate, Tender green: pistachio marzipan, Gold: intense ganache in dark chocolate, powdered pink: praliné with Piedmont hazelnuts and lemon zest.
Made in France
37.00 €
Box of 28 pieces
Delivery estimate: on or before Tuesday 4 April with Express France.
This Product is shipped directly from our Boutique in Lyon, France. Packaging will protect from shocks and heat.
Ingredients
Dark chocolate 70%, Milk chocolate 43% (Cocoa paste, sugar, cocoa butter, whole milk powder, vanilla, sunflower lecithin) Pralines: Almonds from Provence, Hazelnuts from Piedmont, sugar, fleur de sel, vanilla. Crunchy praline: Lacy pancake chips (flour, butter, milk, eggs) Nougatine (sugar, almonds, glucose syrup.) Ganache: Cream, butter, glucose syrup, sorbitol, invert sugar. Pistachio almond paste: Almonds, sugar, Sicilian pistachio 12%, gucose syrup, sorbitol, cream, cocoa butter.
Allergens
Nuts, milk, gluten
Conservation
Eat within three weeks of purchase and store at a temperature below 20°C, in a dry place away from smells.
130x205x40mm - 265g - 139.62 €/kg - Reference: P-001063 - For Products with several flavors, the Chocolate Maker may exceptionnally replace one flavor by another according to production and/or seasonal constraints. Non-contractual photo. Serving suggestion.
Learn More
Discover more about Maison Palomas
Keep in Touch
Receive our Newsletter & be the first to get word of our new Chocolates and of our news.