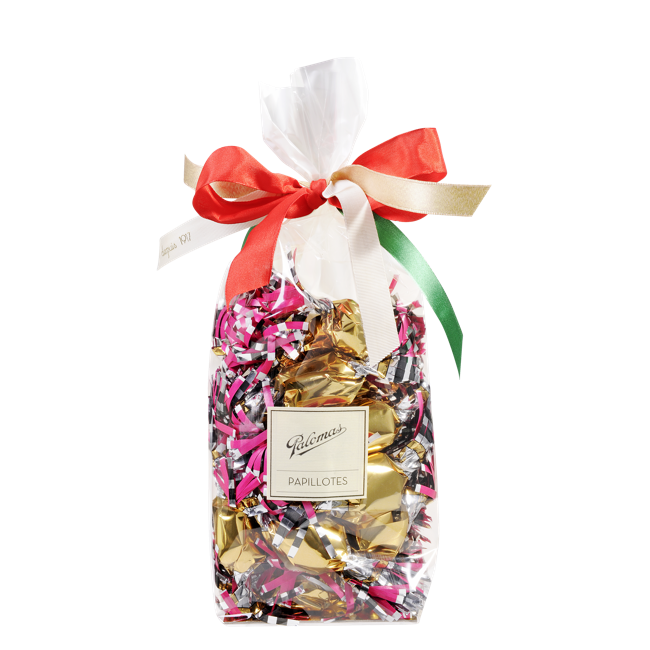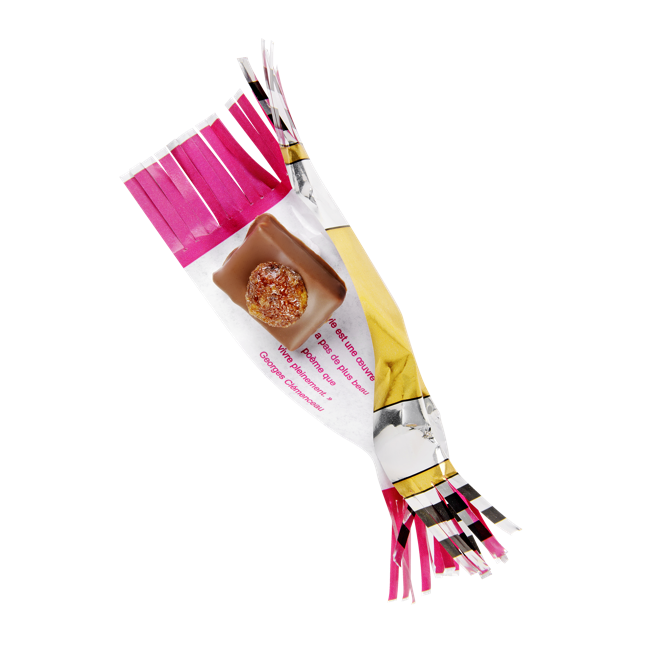 Papillotes Chocolates & Confectionery
"Christmas 2021" - Home-Made Papillottes Filled With Chocolate And Our Confectionery
Papillotes can be ordered now. They are available for shipping and click & collect from December 1st to 24th.
You will find 16 varieties among our dark and milk chocolates and confectionery wrapped by us to celebrate Christmas with your family or to please your friends.
Made in France
37.50 €
Bag of 300g
This Product is shipped directly from our Boutique in Lyon, France. Packaging will protect from shocks and heat.
Our Advice
Taste your papillotes at a temperature between 20°C and 24°C accompanied by a glass of champagne or tea.
Ingredients
Dark chocolate (66% minimum cacao content, sugar, vanilla extract, emulsifier (soya lecithin), milk chocolate (39% minimum cacao content, sugar, powdered whole milk, vanilla extract, soya lecithin). Cream, sugar, almonds, butter, hazelnuts, pure cacao paste, cacao butter, glucose syrup, inverted sugar, sweetener (sorbitol), dextrose, blackcurrant purée, passion fruit juice, raspberry, coffee, lemon, pistachio, chestnut, honey, powdered whole milk, orange, crêpes dentelles (milk, eggs, flour, sugar, salt), sultanas, currants, cacao powder, cocoa nibs, Earl Grey tea, Bourbon vanilla pods, ginger, mint, rum, kirsch, Kéva.
Allergens
Nuts, milk, soya, eggs, gluten
Conservation
At a temperature below 20°C for up to 8 weeks in their original packaging, protected from odours and humidity.
180x100x60mm - 300g - 125.00 €/kg - Reference: P-001047 - For Products with several flavors, the Chocolate Maker may exceptionnally replace one flavor by another according to production and/or seasonal constraints. Non-contractual photo. Serving suggestion.
Keep in Touch
Receive our Newsletter & be the first to get word of our new Chocolates and of our news.