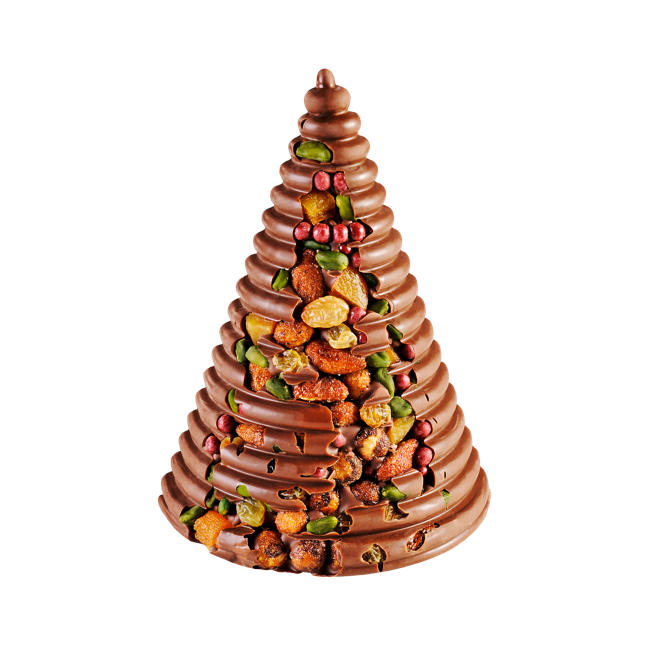 Milk Chocolate Beggar tree Milk chocolate
"Christmas 2020" - Milk Chocolate Tree 43% Cocoa Encrusted With Dried And Soft Fruit
The Inlay Tree can be ordered now. It is available for shipment and click & collect from 11th to 24th December.
Caramelised Piedmont hazelnuts, caramelised almonds from Provence, pistachios, soft apricots, cranberries and sultanas encrusted in a 43% cocoa milk chocolate tree.
Made in France
30.00 €
The Inlay Tree can be ordered now, it will be available from December 11 to 24.
This Product is shipped directly from our Boutique in Lyon, France. Packaging will protect from shocks and heat.
Ingredients
Milk chocolate 43%, milk, pistachio, raisins, Drôme almond, Piedmont hazelnuts, sugar, dried apricot, raspberry.
350g - 85.71 €/kg - Reference: P-001027 - For Products with several flavors, the Chocolate Maker may exceptionnally replace one flavor by another according to production and/or seasonal constraints. Non-contractual photo. Serving suggestion.
Keep in Touch
Receive our Newsletter & be the first to get word of our new Chocolates and of our news.