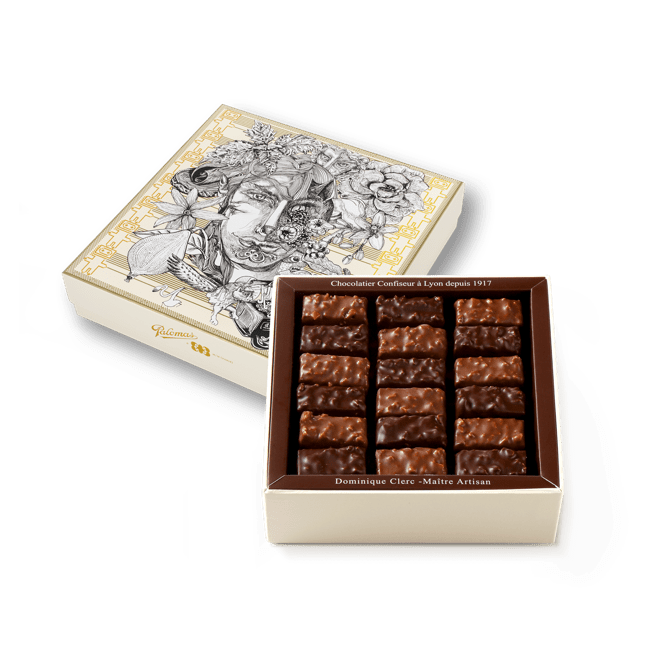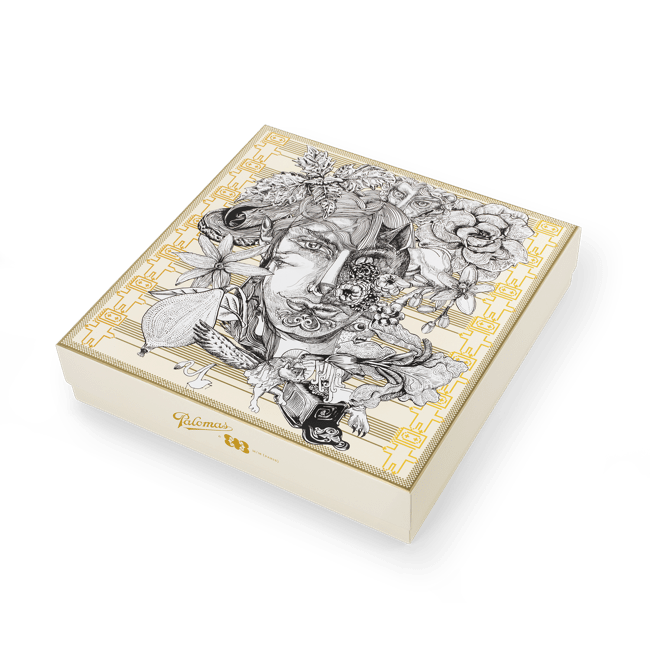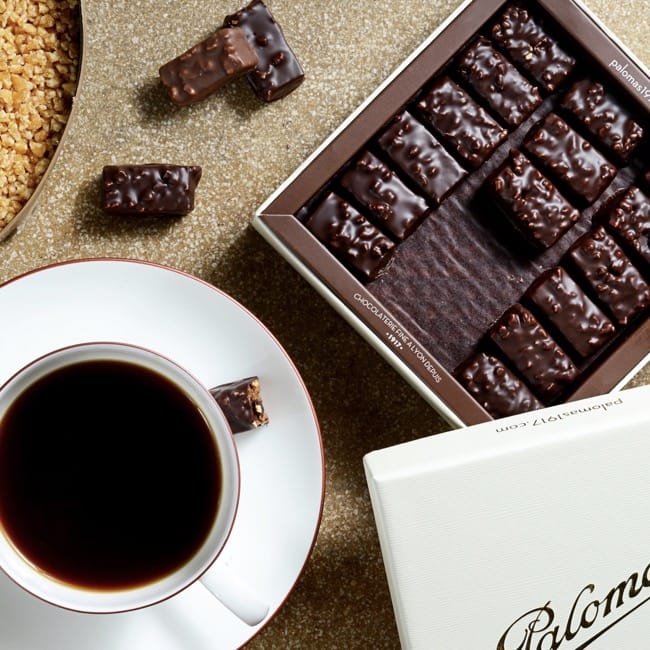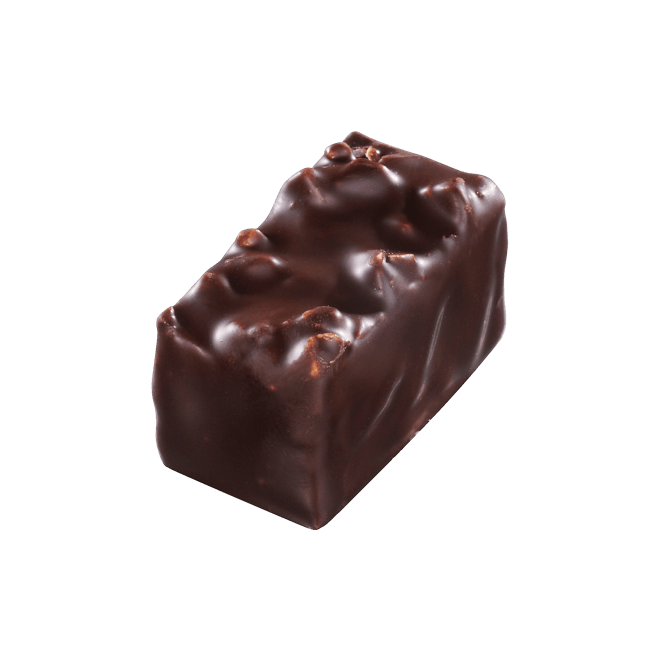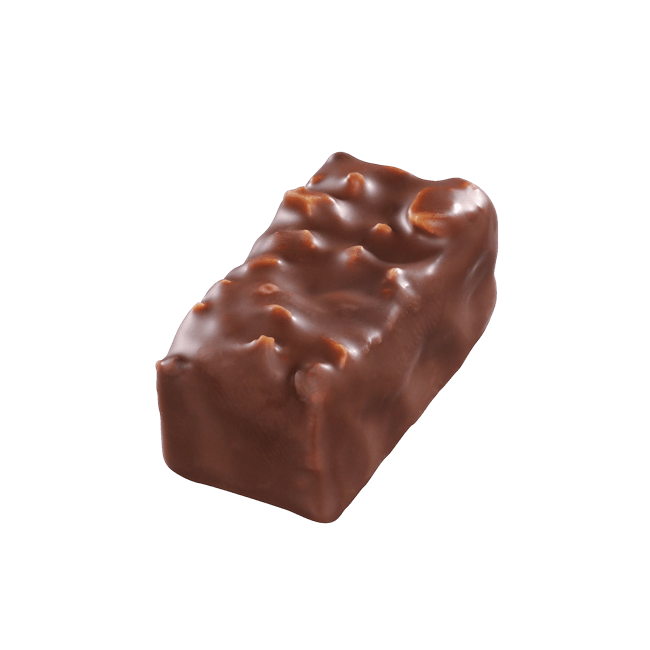 Malakoff Assortment
Delicious Pralines of Yesteryear With Almond And Hazelnut Flakes, Coated In Milk Or Dark Chocolate. Limited Edition
A classic among our chocolates, our Malakoffs are a delicious blend of our pralines made from Ferragnes almonds and Piedmont hazelnuts, with delicate flakes of roasted hazelnuts and almond nougatine. The contrast of textures - crunchy and gooey - gives these timeless chocolates their charm.
The notes of caramel and roasted nuts, the crunchiness of the nut flakes and nougatine succeed each other against a backdrop of Bourbon vanilla from Madagascar, brown sugar from Réunion and a touch of fleur de sel salt. The length in mouth is exceptional, almost heady.
The collaboration between M M and Palomas was born of the meeting between this artist-designer duo, which constantly challenges the boundaries of image, and a century-old house of fine chocolate making that perpetuates the incomparable taste of childhood.
M M (Paris) has created an original work inspired by the cornucopia, reflecting the richness of the flavours of the Maison Palomas® fine chocolate factory.
Made in France
44.00 €
MM Box of 36 Pieces
Delivery estimate: on or before Friday 6 October with Express France.
This Product is shipped directly from our Boutique in Lyon, France. Packaging will protect from shocks and heat.
A Word from our Chocolate Master
Various factors come into play when tasting a praline, and the degree to which the nuts are roasted is fundamental; not enough and they won't be fully dried so their flavour will not come through, too much and they will be bitter. We go to great lengths to roast our nuts thoroughly, until the first signs of bitterness so as to counter the sugary sensation and allow the flavours of the pralines to last longer. As for the caramel, it is cooked separately in the same way: until the first bitter notes come through to counter the sugary sensation and give our pralines their strong character. All our pralines are seasoned with a pinch of fleur de sel salt. Our pralines are matured using a "Repiquet" grinder built in the 1950s, a unique piece that is no longer to be found these days. The fineness of the praline thus obtained gives unparalleled creaminess to our Malakoffs and unlocks all the flavour particles of full-roasted nuts.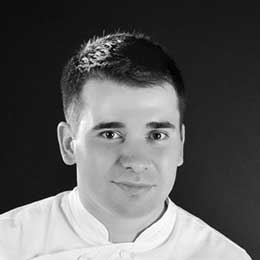 Our Advice
The chocolates can be enjoyed at any time of the day, at temperatures below 24°C. Pair with a glass of Madeira or port, or a cup of tea or coffee.
Ingredients
Sugar, almonds, Piedmont hazelnuts, cacao butter, fleur de sel salt, milk chocolate (45% minimum cacao content, sugar, powdered whole milk, vanilla pods)
Allergens
Almonds, hazelnuts, milk, possible traces of flour.
Conservation
Eat within five weeks of purchase and store at a temperature below 20°C, in a dry place away from smells.
130x40x130mm - 330g - 133.33 €/kg - Reference: P-001114 - For Products with several flavors, the Chocolate Maker may exceptionnally replace one flavor by another according to production and/or seasonal constraints. Non-contractual photo. Serving suggestion.
Learn More
Discover more about Maison Palomas
Keep in Touch
Receive our Newsletter & be the first to get word of our new Chocolates and of our news.