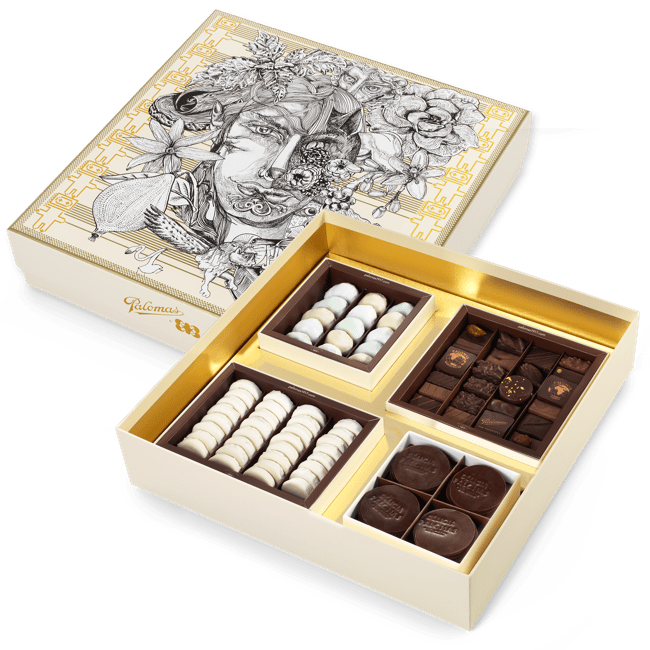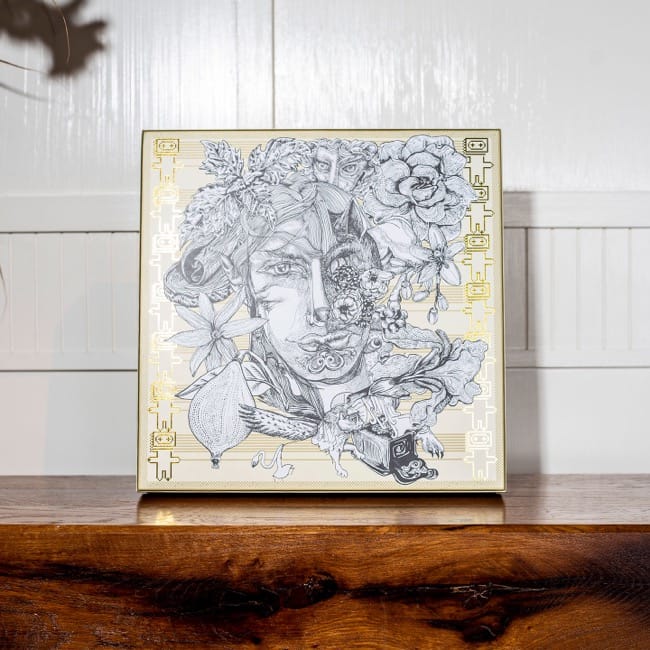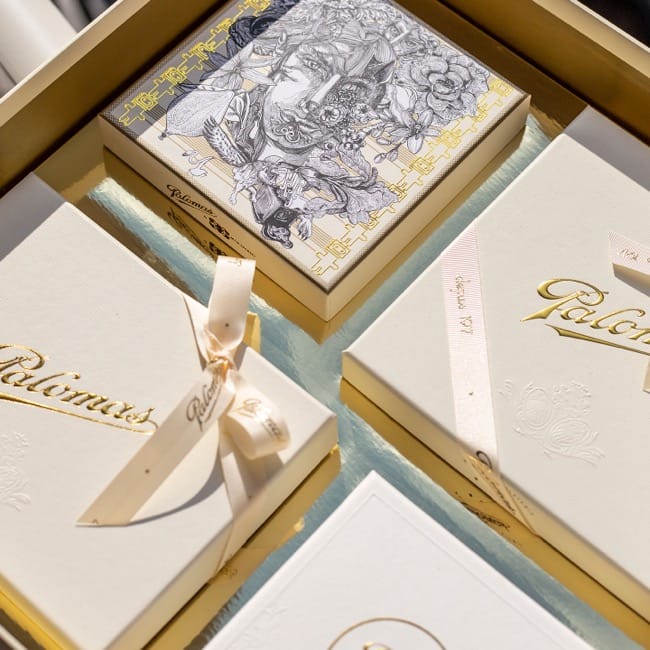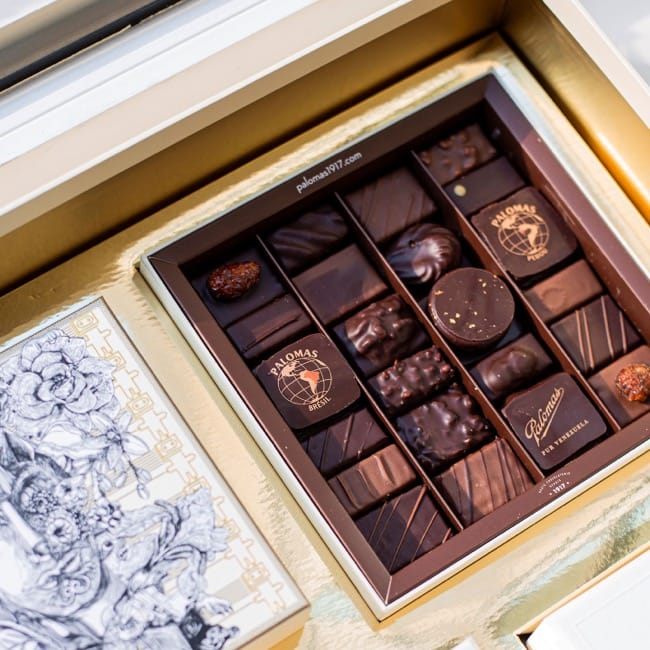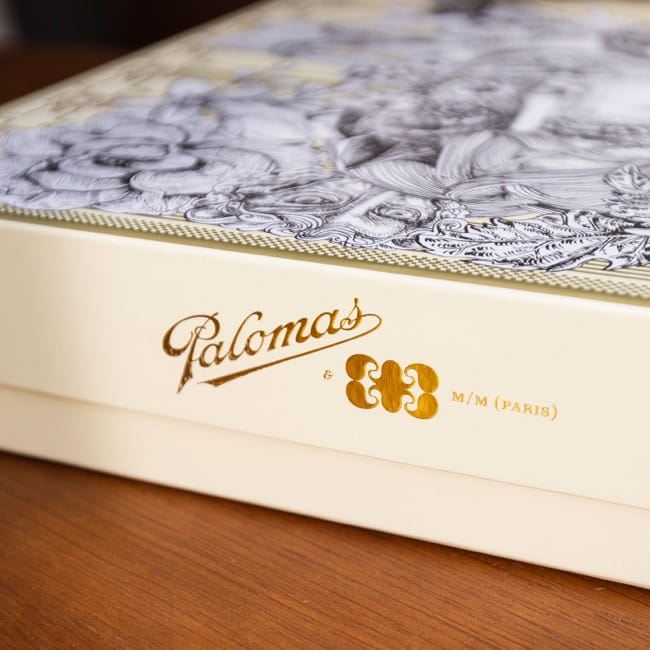 Large MM Christmas Set Number 2
With Amandes Bellecour, Palets de Fourvière, Chocolates And Delicia. Limited Edition
A singular and mythical box sealing a daring collaboration. Each box can be personalised and contains four boxes of emblematic Palomas® products, namely Palets de Fourvière®, Les Délicia®, Les Amandes Bellecour® and an assortment of chocolate sweets or original confectionery. The collaboration between M M and Palomas was born of the meeting between this artist-designer duo, which constantly challenges the boundaries of image, and a century-old house of fine chocolate making that perpetuates the incomparable taste of childhood. M M (Paris) has created an original work inspired by the cornucopia, reflecting the richness of the flavours of the Maison Palomas® fine chocolate factory.
Made in France
190.00 €
Set of 4 Boxes
This product is currently not available.
A Word from our Chocolate Master
The inspiration for this conversation between creative actors is to visually express the uniqueness of Palomas chocolates and confectionery through an illustration that only Michaël Amzalag and Mathias Augustyniak have the secret to. Dreamlike, transgressive, a free interpretation of a cornucopia, the chimerical central character expresses the strong and contrasting sensations felt by the artists when tasting Palomas chocolates and confectionery.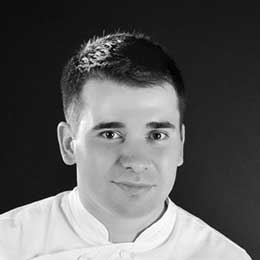 Our Advice
Palets de Fourvière can be enjoyed any time of the day, at a temperature below 24°C, paired with tea, coffee or a glass of champagne.
Ingredients
Praliné: Piedmont hazelnuts, sugar, cocoa butter, cocoa paste, Bresse AOC butter. Meringue: Sugar, egg whites, coffee extract, rum. Nougatine: Sugar, almonds, brown sugar, glucose syrup. Pistachio almond paste: Almonds, Sugar, Sicilian pistachios (Bronte), glucose syrup, sorbitol, invert sugar, Kirsh. Orange almond paste: Lauranne almonds, candied oranges (Sicilian oranges, sugar, glucose syrup), sugar, glucose syrup, sorbitol, invert sugar, Grand Marnier. Almond praline: Almonds, sugar, cocoa butter. Almonds, Pistachios, possible presence of flour and milk.
Cocoa beans 72% min, cane sugar, vanilla beans.
Dark chocolate (Cocoa beans min. 66%, sugar, vanilla extract, emulsifier (sunflower lecithin), milk chocolate (Cocoa beans min. 43%, sugar, whole milk powder, vanilla extract, sunflower lecithin). Cream, sugar, almonds, butter, hazelnuts, pure cocoa mass, cocoa butter, glucose syrup, invert sugar, sweetener (sorbitol), dextrose, blackcurrant puree, passion fruit juice, raspberry, coffee, lemon, pistachio, chestnut, honey, whole milk powder, orange, crêpes dentelles (milk, eggs, flour, sugar, salt), golden raisins, currants, cocoa powder, sesame, cocoa nibs, Earl Grey tea, bourbon vanilla pods, ginger, mint, rum, Kirsch, Keva, natural flavourings : raspberry, mint, ginger, lemon.
Allergens
Hazelnuts, milk, eggs, possible traces of flour, nuts.
Amandes, Pistaches. Présence possible de farine et lait.
Nutritional Values
Average nutritional values per 100g: Energy: 466.96kcal, Protein: 8.13g, Carbohydrates: 43.55g (of which sugars: 42.96g), Fat: 28.69g (of which saturated fats: 8.01g), Salt: 0.14g Average nutritional values per 100g: Energy: 2373 kJ (573 kcal), Fat: 43g (of which saturated fatty acids: 26g), Carbohydrates: 31g (of which sugars: 27g), Protein: 9.1g, Salt
Conservation
Eat within eight weeks of purchase and store at a temperature below 20°C, in a dry place away from smells.
350x70x350mm - 990g - 191.92 €/kg - Reference: P-001118 - For Products with several flavors, the Chocolate Maker may exceptionnally replace one flavor by another according to production and/or seasonal constraints. Non-contractual photo. Serving suggestion.
Learn More
Discover more about Maison Palomas
Keep in Touch
Receive our Newsletter & be the first to get word of our new Chocolates and of our news.